METROPOLITAN ANDREY SHEPTYTSKY AND THE GREEK CATHOLIC CHURCH IN EASTERN GALICIA AND TRANSCARPATHIA
Synopsis
The monograph of the historians of Uzhgorod National University, Vasyl Stefanyk Precarpathian National University and Ivano-Frankivsk National University of Oil and Gas highlights major milestones in the life of Metropolitan Andrey Sheptytsky. The main attention is paid to exploring aspects of the scientific, educational and ecumenical heritage of the prominent ecclesiastical, cultural, social and political figure of Ukraine. The authors of the study also raise the problem of church and cultural relations between the Metropolitan of Halicia and the figures of Transcarpathia. In particular, A. Sheptytsky's position regarding the proclamation of the Carpathian Ukraine in March 1939 is highlighted. The monograph concludes an analysis of the current state of interconfessional relations in Transcarpathia.
Chapters
INTRODUCTION

PART 1. METROPOLITAN ANDREY SHEPTYTSKY IN THE LIGHT OF THE DOCUMENTS

PART 2. METROPOLITAN ANDREY SHEPTYTSKY THROUGH THE EYES OF CONTEMPORARIES AND IN THE HISTORIOGRAPHY

PART 3. LIFE PATH AND SOCIO-POLITICAL ACTIVITY OF ANDREY SHEPTYTSKY

PART 4. EDUCATIONAL, CULTURAL AND SCIENTIFIC ACTIVITY OF METROPOLITAN ANDREY SHEPTYTSKY

PART 5. ECUMENICAL ACTIVITY OF METROPOLITAN ANDREY SHEPTYTSKY

PART 6. RELIGION AND CHURCH IN CARPATHIAN UKRAINE

PART 7. PECULIARITIES OF THE CONFESSIONAL SITUATION IN TRANSCARPATHIA: HISTORY AND MODERNITY

PART 8. THEORETICAL AND METHODOLOGICAL FRAMEWORK FOR THE STUDY OF THE EASTERN ENLARGEMENT OF THE EUROPEAN UNION

CONCLUSIONS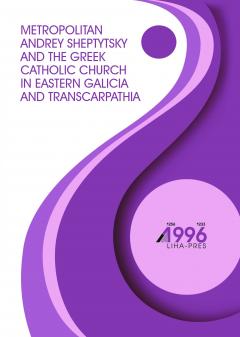 Published
November 5, 2020
Copyright (c) 2020 Liha-Pres
This work is licensed under a Creative Commons Attribution 4.0 International License.