COMMUNICATIVE-PRAGMATIC, NORMATIVE AND FUNCTIONAL PARAMETERS OF THE PROFESSIONAL DISCOURSE
Synopsis
Communicative-pragmatic, normative and functional parameters of the professional discourse : collective monograph. Lviv-Toruń : Liha-Pres, 2021. 327 p.
Chapters
CHANGES IN ANTHROPONYMIC PREFERECES OF ODESA REGION INHABITANTS (UKRAINE) IN TIME

LITERARY TEXT AS A FACTOR IN THE FORMATION OF THE PROFESSIONAL PROGRAM OF A MILITARY SERVANT

DISCOURSE MODEL OF CHRISTIAN CANONICAL TEXTS VERBAL INFLUENCE

SCIENTIFIC AND PROFESSIONAL DISCOURSE IN THE VOCATIONAL TRAINING OF UKRAINIAN PHILOLOGISTS

ФАМИЛНИТЕ ИМЕНА ОТ ТУРСКИ ПРОИЗХОД НА СТУДЕНТИ ОТ ОЮА «ЮРИДИЧЕСКА АКАДЕМИЯ» В ЕЗИКОВОАРХЕОЛОГИЧЕСКО ОСВЕТЛЕНИЕ

LINGUISTRAGMATICS OF A POLITICAL POSTER: INTERACTION STRATEGIES WITH ADDRESSES

PROFESSIONAL DISCOURSE OF CONTRASTIVE GRAMMAR TEXTBOOKS: THE PROBLEM OF INTERPRETATION OF KEY TERMS

UKRAINISCHER PÄDAGOGISCHER DISKURS: LINGUISTISCHE HISTORISCHE AUSLEGUNG

PROBLEMS OF LINGUISTIC STUDIES OF PROFESSIONAL LANGUAGE IN UKRAINE

COMMUNICATION AND PRAGMATIC ASPECT OF MODERN UKRAINIAN TEXT

SURFING THE INTERNET IN SEARCH OF CREATIVITY

ABOUT THE RELATIONSHIP OF POLYSEMY, SYNONYMY, PARONYMY AND VARIANTS AT THE LEVEL OF WORDS AS A COMPLETE UNIT OF DERIVATOLOGY

PRECEDENT PHENOMENAS IN MUSIC INTERPRETATION

PRECEDENT PHENOMENA IN UKRAINIAN POLITICAL DISCOURSE: TYPOLOGY AND PRAGMATICS

A CORPUS-BASED APPROACH TO THE UKRAINIAN POLITICAL DISCOURSE STUDY

TEACHING PROFESSIONAL DISCOURSE IN A FOREIGN LANGUAGE THROUGH LEXICAL COMMUNICATOR FORMATION

SPEECH CULTURE IN PROFESSIONAL COMMUNICATION

TEACHING THE UKRAINIAN LANGUAGE TO FOREIGNER STUDENTS WITH THE TEXTS OF NEWS CHRONICLES

ASSOCIATIVE FIELDS "REPUTATION" AND "IMAGE" IN THE INTERCULTURAL DIMENSION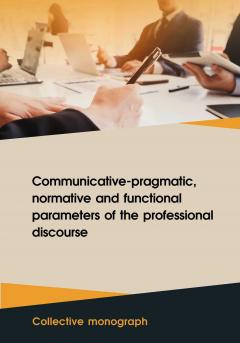 Copyright (c) 2021 Liha-Pres
This work is licensed under a Creative Commons Attribution 4.0 International License.