ACTUAL PROBLEMS OF PHILOLOGICAL SCIENCES AND METHODS OF TEACHING
Synopsis
Actual problems of philological sciences and methods of teaching: collective monograph. Lviv-Toruń : Liha-Pres, 2021. 251 p.
Chapters
THE CONCEPT OF "GENRE" IN THE ASPECT OF PHILOSOPHICAL HERMENEUTICS

LEXICAL COMPONENTS OF TETIANA STUS'S IDIOSTYLE (ON MATERIAL OF THE SHORT STORIES FOR CHILDREN)

"PYSMONAVTYKA" BY TETIANA STUS AS A COURSE OF LITERARY CREATIVITY FOR CHILDREN

GENRE VARIETIES OF UKRAINIAN ADVENTURE PROSE OF THE END OF THE XX – BEGINNING OF THE XXI CENTURES

METHODS OF TRANSMISSION OF THE UKRAINIAN NATIONALLY MARKED VOCABULARY IN THE RUSSIAN VERSION OF THE NOVEL "BLACK COUNCIL" BY PANTELEIMON KULISH

INTERTEXTUAL ANALYSIS OF A WORK OF FICTION: SCIENTIFIC AND SCHOOL PARADIGMS

TEXT AS A LINGUISTIC DIDACTIC UNIT IN THE PROFESSIONAL TRAINING OF A LANGUAGE AND LITERATURE TEACHER

LITERARY PORTRAIT OF IVAN NYZOVYI. THE FEATURES OF "TRANSPLANTATION" OF JAPANESE POETIC TRADITION IN THE PLANE OF UKRAINIAN LYRICS (ON THE EXAMPLE OF HAIKU)

THEORETICAL AND METHODOLOGICAL FUNDAMENTALS OF TEACHING PHILOLOGICAL DISCIPLINES IN THE MODERN INSTITUTION OF HIGHER EDUCATION

CREATIVITY OF VASYL BARKA IN THE HISTORICAL AND LITERARY CONTEXT OF THE XXI CENTURY

SYNERGY OF APPROACHES TO TEACHING MODERN UKRAINIAN LITERATURE TO TEENAGERS IN GYMNASIUM

GENRE ORIGINALITY OF A LITERARY TALE OF THE EARLY UKRAINIAN MODERNISM INTRODUCTION

CONTEXT STUDY OF LITERATURE IN THE SYSTEM OF SPECIALIZED SCHOOL EDUCATION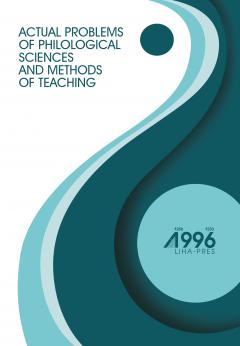 Copyright (c) 2021 Liha-Pres
This work is licensed under a Creative Commons Attribution 4.0 International License.