PEASANT-CENTRIC DIMENSION OF THE SOCIO-CULTURAL SPACE OF UKRAINE DURING THE REVOLUTION OF 1917–1921
Synopsis
Peasant-centric dimension of the socio-cultural space of Ukraine during the revolution of 1917–1921 : collective monograph. Lviv-Toruń : Liha-Pres, 2021. 128 p.
Chapters
FOREWORD

UKRAINIAN AGRARIANISM OF THE PERIOD OF THE UKRAINIAN REVOLUTION OF 1917–1921 IN INTELLECTUAL HERITAGE OF G. SIMANTSIV

AGRARIAN DISCOURSE OF MYKHAILO HRUSHEVSKY'S JOURNALISTIC HERITAGE: IDEOLOGY, ISSUES, RECEPTION

PARTY-POLITICAL PEASANT-CENTRAL DISCOURSE IN THE DAY OF THE UKRAINIAN REVOLUTION 1917–1921: IDEOLOGICAL TYPES AND MOBILIZATION POSSIBILITIES

AGRARISM IN BULGARIA AND CZECHOSLOVAKIA IN THE FIRST THIRD OF THE 20TH CENTURY: GENESIS, FEATURES OF DEVELOPMENT, INTELLECTUAL HERITAGE

POLITICAL LIFE AND THE AGRARIAN QUESTION IN THE COLUMNS OF THE UKRAINIAN CERENIST NEWSPAPER "KHLIBOROBSKA PRAVDA" (THE SECOND HALF OF THE 1920S)

PEASANT REVOLUTIONISM OF THE COUNTRIES OF CENTRAL AND EASTERN EUROPE AND UKRAINE – THE CATALYST OF AGRARIANIST TRANSFORMATIONS

CONCLUSIONS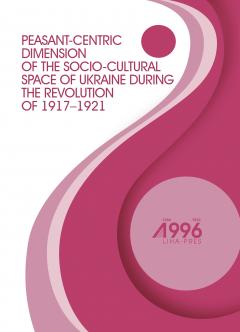 Published
September 3, 2021
Copyright (c) 2021 Liha-Pres
This work is licensed under a Creative Commons Attribution 4.0 International License.