GLOBAL ASPECTS OF NATIONAL ECONOMY DEVELOPMENT IN THE CONDITIONS OF TRANSFORMATIONAL CHANGES
Synopsis
Global aspects of national economy development in the conditions of transformational changes: collective monograph / L. O. Aleschenko, O. V. Averchev, V. O. Boiko, S. Yu. Bolila, L. V. Borovik, O. V. Cheremisin etc. Lviv-Toruń : Liha-Pres, 2021. 248 p.
Chapters
OPENING ADDRESS

ANALYSIS OF ACTIVITIES AND PROSPECTS OF DEVELOPMENT OF TOURIST BUSINESS ENTITIES

CURRENT STATE AND PERSPECTIVE FOR THE DEVELOPMENT OF THE BEEKEEPING MARKET IN THE WORLD AND UKRAINE

GLAMPING AS A PROMISING NICHE IN TOURISM AND HOTEL BUSINESS

DEVELOPMENT OF TERRITORIES USING MODERN MANAGEMENT AND MARKETING TOOLS IN THE CONDITIONS OF GLOBAL CHALLENGES AND THREATS

THE METHODOLOGY OF ACCOMPLISHING OF ASSESSMENT OF EFFICIENCY OF REGIONAL INVESTMENT POLITICS OF THE AGRICULTURE FORMATION

THE EXPERIENCE OF ECONOMICAL MODERNIZATION OF MUNICIPAL ECONOMY IN THE SOUTH OF UKRAINE IN THE SECOND HALF OF XIX – AT THE BEGINNING OF XX

RESEARCH OF OPTIMIZATION MANAGEMENT MODELS IN CONDITIONS OF UNCERTAINTY AND RISKS

METHOD FOR IDENTIFICATION AND FORECASTING THE STATE OF ECONOMIC DYNAMIC SYSTEMS

INTERCULTURAL COMMUNICATION AND CROSS-CULTURAL MANAGEMENT IN UKRAINE

ROLE OF THE STATE IN IMPROVING THE LIVING STANDARDS OF HOUSEHOLDS

THEORETICAL AND METHODOLOGICAL APPROACHES TO CONSTRUCTION OF SYSTEM RISK MANAGEMENT BY AGRICULTURAL SECTOR ENTERPRISES

BUILDING CULTURAL COMPETENCE OF FUTURE ECONOMISTS BY INTRODUCING INTERACTIVE TEACHING METHODS

ADAPTIVE MANAGEMENT AS A TOOL OF SUSTAINABLE DEVELOPMENT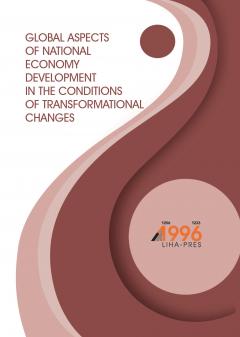 Published
November 25, 2021
Copyright (c) 2021 Liha-Pres
This work is licensed under a Creative Commons Attribution 4.0 International License.