SOCIAL AND PSYCHOLOGICAL PROBLEMS OF MODERN SOCIETY
Synopsis
The monograph presents the results of theoretical-empirical research, which reveals the socio-psychological problems inherent in modern society.
In particular, the theoretical analysis of the development of creativity and abilities of the individual at different levels and determinants of the role of society in this process.
The socio-psychological factors of personality growth in a family are defined in the monograph. The theoretical and methodological problems of the study of gender-role identification of adolescents have been determined. The results of an empirical study of young students' views on the issue of gender discrimination are presented.
The subject of the presented works covers a wide range of issues, knowledge of these papers helps to determine the trends of modern society in the context of socio-psychological perspectives.
Chapters
CHAPTER 1 THE SPECIAL ASPECTS OF COMMUNICATIVE INTERACTION OF YOUNG STUDENTS IN POLYETHNIC SPACE OF MODERN UKRAINE

CHAPTER 2 THE LEGAL SELF-DETERMINATION OF THE IMPOVERISHED SOCIAL GROUPS' REPRESENTATIVES

CHAPTER 3 SOCIO-PSYCHOLOGICAL FACTORS OF PERSONAL GROWTH IN FAMILY CONDITIONS

CHAPTER 4 SOCIO-PSYCHOLOGICAL ASPECTS OF DEVELOPMENT OF PERSONALITY DEMOCRACIES IN MODERN UKRAINE

CHAPTER 5 GENDER DISCRIMINATION: VIEW OF STUDENT YOUTH

CHAPTER 6 RECREATIONAL APPROACH TO REALIZATION OF SOCIAL WORK PRINCIPLES

CHAPTER 7 THE CHILD NEGLECT AS A SOCIO-PSYCHOLOGICAL PROBLEM

CHAPTER 8 THE THEORETICAL-METHODOLOGICAL PROBLEMS OF GENDER-ROLE IDENTITY OF ADOLESCENTS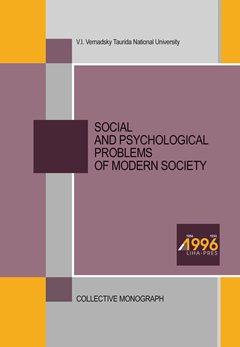 Published
October 17, 2019