LANGUAGE PERSONALITY: LINGUISTICS AND LANGUAGE DIDACTICS. PART 1
Synopsis
Language Personality: Linguistics and Language Didactics. Part 1 : collective monograph / Kornovenko L. V. and others. Lviv – Torun : Liha-Pres, 2022. 156 р.
Chapters
LANGUAGE PERSONALITY IN THE COMMUNICATIVE SITUATION OF APPEALS

E. VODOLAZKIN'S LANGUAGE PERSONALITY: ELEMENTS OF THE ARCHAIC DISCOURSE

THE LANGUAGE PERSONALITY IN THE CONCEPT GOOD CONTEXTS TO THE ENGLISH LANGUAGE PICTURE OF THE WORLD

THE LANGUAGE PERSONALITY OF THE AUTHOR AND THE CHARACTER IN THE NOVEL OF F. BEIGBEDER «99 FRANCS»

FORMATION OF THE LANGUAGE PERSONALITY OF A STUDENT-PHILOLOGIST BY MEANS OF INTEGRATED PROFESSIONAL COMMUNICATIVE COURSE

OPPORTUNITIES FOR THE DEVELOPMENT OF STUDENTS' SOCIAL SKILL OF COLLABORATION IN STUDYING A PROFESSIONAL-ORIENTED FOREIGN LANGUAGE

PERSPECTIVES ON STUDENT PEER PERFORMANCE EVALUATION WITHIN THE PROCESS OF TEACHING ENGLISH FOR OCCUPATIONAL PURPOSES AT THE TERTIARY EDUCATIONAL LEVEL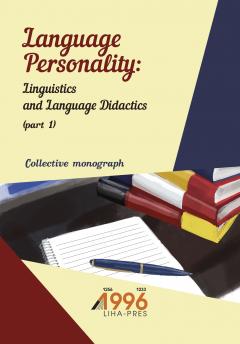 Published
August 18, 2022
Copyright (c) 2022 Liha-Pres
This work is licensed under a Creative Commons Attribution 4.0 International License.