THEORETICAL AND APPLIED ASPECTS OF THE DEVELOPMENT OF MODERN PSYCHOLOGY AND PEDAGOGY
Synopsis
The monograph is devoted to the consideration of theoretical and applied aspects of the modern pedagogy and psychology.
In particular, the essential properties of current training of future specialists, factors of its effectiveness, its key elements, principles, functions, means and techniques of project training and features of using the project method from the positions of the competence approach are analysed.
The signs of the traditionally leading institution of socialization have been defined: conservatism, unification, limitations of influence in time, and the existence of a corps of professional socializers. The importance of a detailed study of the problem of marginalization, the conditions and resources for the demarginalization of the pedagogical community and its individual segments have been emphasized.
In addition, the main trends and directions in the study of ethnogenesis, ethnic consciousness and ethnic culture of the Crimean Tatars are being considered.
Chapters
CHAPTER 1 FORMATION OF ASSERTIVENESS AS A MEANS OF EQUALIZATION OF COMMUNICATIVE INTERACTION IN POLYETHNIC SPACE OF UKRAINE

CHAPTER 2 THE ROLE OF SOCIO-PSYCHOLOGICAL FEATURES OF THE PEDAGOGICAL COMMUNITY IN THE FORMATION OF THE SOCIAL PICTURE OF THE WORLD OF UKRAINIAN YOUTH

CHAPTER 3 PSYCHOLOGICAL BASIS OF CREATIVE PERSONALITY DEVELOPMENT AT THE STAGE OF CHILDHOOD

CHAPTER 4 GENDER APPROACH AS A NECESSARY CONDITION FOR FORMING GENDER COMPETENCE OF STUDENTS' YOUTH

CHAPTER 5 PSYCHOLOGICAL AND PEDAGOGICAL BASES FORMING OF PROFESSIONAL COMPETENCE OF THE FUTURE EXPERT

CHAPTER 6 IRRATIONAL CONCEPT OF MANAGEMENT EDUCATION

CHAPTER 7 CONDITION OF DEVELOPMENT AND PROBLEMS OF MODERN EDUCATION FOR ADULTS

CHAPTER 8 THEORETICAL AND METHODOLOGICAL APPROACHES TO DEFINING THE SUBJECT OF THE METHODS OF TEACHING HUMANITARIAN DISCIPLINES AT HIGHER SCHOOL (AS EXAMPLIFIED BY THE MULTICULTURAL EDUCATIONAL MODEL)

CHAPTER 9 PEDAGOGICAL PROJECT DESIGN IN EDUCATIONAL ACTIVITY

CHAPTER 10 MODERN PSYCHOLOGICAL AND PEDAGOGICAL TECHNOLOGIES FOR THE DEVELOPMENT OF STUDENTS' CREATIVITY

CHAPTER 11 PSYCHOLOGICAL PECULIARITIES OF REGULATION OF MOTOR ACTIONS OF OLIGIPHRENS WITH THE HELP OF SEMANTIC TASKS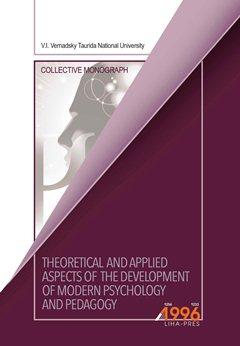 Published
October 21, 2019