УКРАЇНСЬКА ІСТОРІЯ У ПУБЛІЧНОМУ ПРОСТОРІ
Synopsis
Українська історія у публічному просторі : матеріали І Міжнародної науково-практичної конференції, 19 – 21 травня 2023 р., м. Луцьк. – Львів – Торунь : Liha-Pres, 2023. 104 с.
Chapters
EXHUMATION OF VICTIMS OF THE UKRAINIAN-POLISH CONFRONTATION OF THE 1940S IN THE MEDIA

UPDATE OF UKRAINIAN HISTORY IN THE CONDITIONS OF HYBRID WAR IN UKRAINE

PHANTOM "GREAT-POWER" NARRATIVES OF MODERN MOSCOVY'S "UNCONVENTIONAL" WAR AGAINST UKRAINE

VOLYN STUDIES OF OLEKSANDR TSINKALOVSKY IN THE COMMEMORATION RETROSPECTIVE

EDUCATIONAL TRADITIONS OF "CZECH MOTHER OF SCHOOL" AND "VOLYN MATICA": A RETROSPECTIVE ANALYSIS

RETRO PHOTOGRAPHS OF KREMENETS AS A SOURCE OF LOCAL AND PUBLIC HISTORY: REPRODUCING HISTORY THROUGH IMAGES

THE CONTRIBUTION OF THE JESUIT FATHERS TO THE RELIGIOUS LIFE OF LUTSK

THE IMPACT OF MILITARY CONFRONTATION BETWEEN THE POLISH-LITHUANIAN COMMONWEALTH AND THE OTTOMAN EMPIRE ON CHANGES IN THE LIFE OF POPULATION OF CHOTYN REGION (THE FIRST QUARTER OF THE SEVENTEENTH CENTURY)

THE MAIN VECTORS OF HISTORICAL MEMORY IN MODERN POLISH-UKRAINIAN CINEMATOGRAPHY

THE ROLE OF UKRAINIAN WOMEN IN PRESERVING UKRAINIAN HISTORICAL MEMORY AND SELF-IDENTIFICATION IN INTERWAR POLAND

MONUMENTS IN THE VISUAL ENSEMBLE OF THE CITY

CONTROVERSY OVER THE OSSOLIŃSKI LIBRARIES AS HISTORICAL HERITAGE OF UKRAINIANS AND POLES

THE PROBLEM OF THE ROLE OF THE «THIRD FORCE» IN THE ESCALATION OF THE UKRAINIAN-POLISH CONFLICT IN THE 40S OF THE 20TH CENTURY ON THE EXAMPLE OF «GAZETA WYBORCZA»

PROBLEMS OF FORMING THE POLICY OF HISTORICAL MEMORY IN UKRAINE

THE EMERGENCE OF HYBRID WARS ON THE EXAMPLE IS THE HYPETISH-ISRAELI CONFRONTATION

WESTERN CULTURAL EXPANSION AS A FACTOR IN THE CULTURAL CRISIS IN JAPAN IN THE LATE XIX CENTURY

WAYS AND METHODS OF POPULARIZING THE HISTORY OF UKRAINE

NATIONAL-PATRIOTIC EDUCATION OF STUDENTS AT THE HISTORY LESSONS UNDER THE STATE OF WAR

STUDYING THE ISSUE OF COOPERATION BETWEEN UKRAINE AND NATO IN THE LESSONS OF HISTORY AND CIVIC EDUCATION

RESTORATION OF SCHOOLING IN VOLYN IN THE FIRST POSTWAR YEARS: PERSONNEL ASPECT

HISTORY OF MANAGEMENT EDUCATION IN THE CONTEXT OF MODERN REQUIREMENTS

PUBLIC HISTORY AS AN ACADEMIC DISCIPLINE AND EDUCATIONAL PROGRAM

TRAINING OF SPECIALISTS IN THE FIELD OF HISTORY IN VOLYN IN 1946 – 2022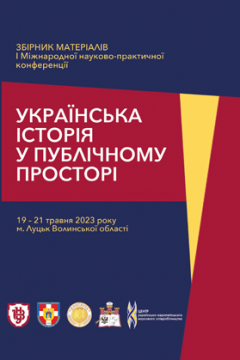 Copyright (c) 2023 Liha-Pres
This work is licensed under a Creative Commons Attribution 4.0 International License.