PSYCHOLOGICAL ACCOMPANIMENT OF PERSONALITY DEVELOPMENT
Synopsis
An analysis of the studies presented in this collective monograph allows us to state that personality formation throughout the entire period of the historical development of mankind is an topical psychological and sociocultural problem.
The article deals with the personality capacities development in a modern educational system. In the work the authors reveal the ways, mechanisms and their effects in the formation of values of the student youth through the study of psychology using interactive teaching methods with the application of psychotechnologies. The development of gender-related training courses in work with young people are highlighted.
The actual problem of adult education is reflected, which highlights the issues of psychological accompaniment of adult students' educational activities. The publication reveals some aspects of the life of a person and a group of minors in penitentiary systems, which, to a certain extent, can act as a reduced model of a congruent society. The study also examines the socio-psychological problem of domestic violence against a child.
Chapters
CHAPTER 1 HATE AS THE ULTIMATE FORM OF INTERGROUP CONFRONTATION

CHAPTER 2 SOCIAL-PSYCHOLOGICAL ASPECTS OF INTRAGROUP ADJUSTMENT IN ADOLESCENTS PENITENTIARY SYSTEMS

CHAPTER 3 PSYCHOLOGICAL AND PEDAGOGICAL SUPPORT FOR THE DEVELOPMENT OF CREATIVE CAPABILITIES IN THE CHILDHOOD PERIOD

CHAPTER 4 PSYCHOLOGICAL AND PEDAGOGICAL ACCOMPANIMENT OF A FOSTER FAMILY FOR FORMATION OF ORPHANED CHILDREN'S FAMILY VALUES

CHAPTER 5 THE INFLUENCE OF SEDATIVE INDUCTOTHERAPY ON APPETITE

CHAPTER 6 PSYCHOLOGICAL ACCOMPANIMENT OF THE STUDENTS' HEALTH RECREATION PROCESS IN THE PSYCHOLOGICA FIELD

CHAPTER 7 THEMATIZATION OF CULTURAL PRACTICES IN THE CONTEXT OF PSYCHOLOGICAL COMPENSATION

CHAPTER 8 BASIC STRUCTURE OF A GENDER-SPECIFIC TRAINING COURSE FOR WORKING WITH YOUNG PEOPLE (STUDENTS)

CHAPTER 9 THE POST-TRAUMATIC GROWTH AS THE FACTOR OF PERSONAL DEVELOPMENT IN CONDITIONS OF MODERN UKRAINE

CHAPTER 10 COGNITIVE POTENTIAL OF METAPHORIZATION IN PERCEPTION OF "I-IMAGE"

CHAPTER 11 MANAGEMENT ABILITIES OF PERSONALITY CULTURE MANAGER: THEORETICAL-EMPIRICAL ANALYSIS

CHAPTER 12 PSYCHOLOGICAL ASPECTS OF ANDRONGO SUPPORT

CHAPTER 13 THE IMPACT OF DOMESTIC VIOLENCE ON THE PERSONALITY'S DEVELOPMENT OF THE CHILD

CHAPTER 14 THE ISSUE OF THE RESEARCH OF CRIMEAN TATARS' ETHNO-PSYCHOGENESIS AND ETHNIC AWARENESS

CHAPTER 15 PERSONALITY VALUES' BECOMING IN EDUCATIONAL PROCESS: TECHNOLOGY AND EXPERIENCE

CHAPTER 16 PSYCHOLOGICAL AND PEDAGOGICAL IMPACT ON THE DEVELOPMENT OF MODERN CHILDREN'S CREATIVE ABILITIES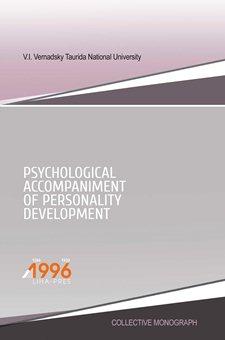 Published
November 21, 2019