NAUKA I PRAVOOKHORONA: PSYCHOLOGICAL PROVISION OF LAW ENFORCEMENT ACTIVITIES
Synopsis
The monograph analyzes the psychological methods of studying the professiographical competence of senior staff of the National Police of Ukraine, considers the psychological basis for improving the efficiency of recruitment of staff of the National Police of Ukraine, carried out a professional analysis of law enforcement activities, paid attention to the adaptation of foreign psychodiagnostic techniques and improve the professional psychological training of police officers of the National Police of Ukraine. On the basis of doctrinal aspects, proposals have been developed for professional psychological support for the selection of personnel for law enforcement agencies.
The publication is intended for researchers, lecturer, post-graduate students and also heads of the law enforcement bodies.
Chapters
CHAPTER 1 PSIHOLOGICAL MEANS OF STUDYING THE PROFESSIONAL COMPETENCE OF SUPERVISORY STAFF OF THE NATIONAL POLICE OF UKRAINE

CHAPTER 2 PSYCHOLOGY OF PROFESSIONAL ACTIVITIES OF CRIMINAL POLICE OFFICERS

CHAPTER 3 USE OF TRAINING TECHNOLOGIES IN WORKING WITH LAW ENFORCEMENT PERSONNEL

CHAPTER 4 SPECIAL FEATURES ON GROUP COMMUNICATIONS IN PERFORMANCE OF POLICE OFFICERS

CHAPTER 5 BASIC THEORY OF PROFESSIOGRAPHY ANALYSIS OF LAW ENFORCEMENT ACTIVITIES

CHAPTER 6 THE UKRAINIAN-SPEAKING ADAPTATION OF THE FOREIGN PSYCHODIAGNOSTIC TECHNIQUES

CHAPTER 7 LEGAL AND PSYCHOLOGICAL PRINCIPLES OF THE OPTIMIZATION OF SELECTION AND ASSIGNMENT OF THE NATIONAL POLICE OF UKRAINE PERSONNEL

CHAPTER 8 LEGAL PECULIARITIES AND WAYS TO IMPROVE PROFESSIONAL PSYCHOLOGICAL TRAINING OF POLICE OFFICERS OF THE NATIONAL POLICE OF UKRAINE

CHAPTER 9 ATTITUDE OF YOUNG PEOPLE TO THE CRIMINALITY PROBLEM AND THE POLICE'S ACTIVITIES TO COUNTERACT IT: SOCIAL AND PSYCHOLOGICAL ASPECT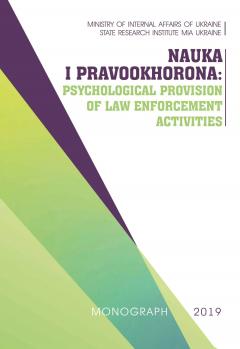 Published
September 10, 2019
Copyright (c) 2019 Liha-Pres
This work is licensed under a Creative Commons Attribution 4.0 International License.