NAUKA I PRAVOOKHORONA: CRIMINOLOGICAL FOUNDATIONS OF CRIME COUNTERACTION
Synopsis
The monograph examines the state, structure and dynamics of crime in Ukraine, analyzes the current crime situation in Ukraine as a whole and in the capital of the country, in particular, considers the criminological aspects of laundering illegally obtained income, criminal and juvenile prevention. On the basis of doctrinal aspects, proposals have been developed for a criminological framework of counteracting crime.
The publication is intended for researchers, lecturer, post-graduate students and also heads of the law enforcement bodies.
Chapters
CHAPTER 1 STATUS, STRUCTURE AND DYNAMICS OF CRIME: TRENDS AND PATTERNS

CHAPTER 2 CURRENT CRIMINOGENIC SITUATION IN UKRAINE

CHAPTER 3 IDENTIFICATION AND PREVENTION OF CRIMES IN THE MAIN AREAS OF ECONOMIC ACTIVITIES

CHAPTER 4 THE PHENOMENOLOGY OF MONEY LAUNDERING AND EFFECTIVENESS OF CRIMINAL PROSECUTION IN UKRAINE

CHAPTER 5 APPLICATION OF CRIMINAL PUNITIVE MEASURES IN UKRAINE: KEY TRENDS

CHAPTER 6 CRIMINAL SITUATION IN THE CAPITAL OF UKRAINE – KYIV: MAIN FEATURES

CHAPTER 7 MEASURES FOR JUVENILE DELINQUENCY PREVENTION IN UKRAINE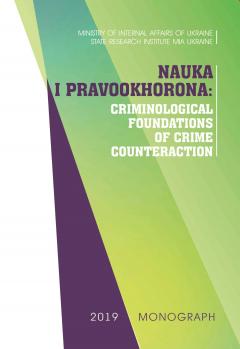 Published
September 12, 2019
Copyright (c) 2019 Liha-Pres
This work is licensed under a Creative Commons Attribution 4.0 International License.